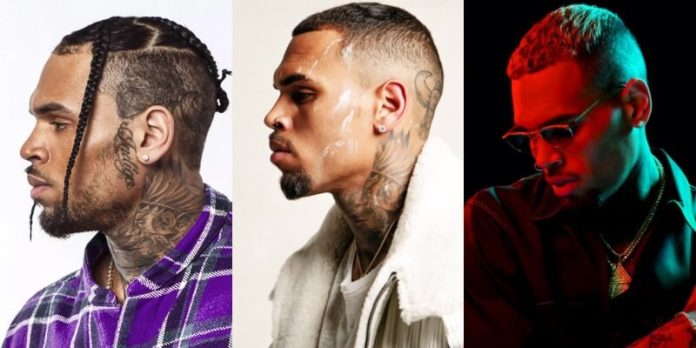 One of the Coolest Pop Singer, Rapper has the Best Hairstyles that People Loves, Chris Brown New Hair Styles with Tips. We Have added 15+ Chris Brown Haircuts with Pictures Those will Help you to Style a hairstyle like Chris Brown. What types of Hairstyles Chris Brown Loves Most? Short and Curly Hair, here you can get the most popular men's haircut. Like Side Part Designed with Fades, Dreadlocks, Buzz Cut, Mid Fade Haircut, Undercut Fade Hairstyle, and Lot's of New Chris Brown Hair. If you are a huge fan of Chris Brown, We suggest you try those hairstyles with your Hair dresser's recommendation. Always Use Best Hair Products for Best Hairstyles like Celebrities.
CHRIS BROWN HAIRSTYLE [NEW 2023 UPDATED]
Before choosing a hairstyle for you, you must have knowledge about why Chris brown hairstyle is so famous and why it's on-trend of men's hairstyles list. Chris Brown Always Make Awesome Stylish Hairstyles, on his every tour, sometimes he loves to keep short buzz fade hair, one he changed his hair color, Chris brown Blonde Hair and He loves long hair too. In the list of 15+ Chris Brown Hairstyles, choose which one you like and which one will look good on you. Take some suggestions from your Friends, Family, and Loves. Share This Chris Brown Haircut List and Share it with your Barber.
1

Side Part Bald Fade + Short Buzz Cut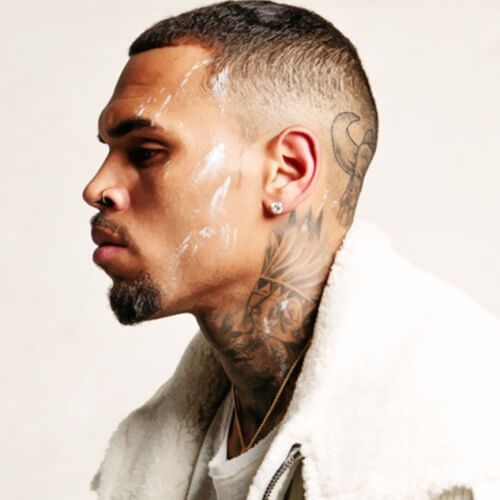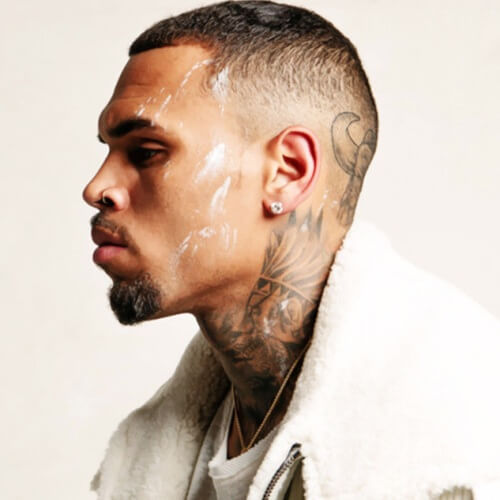 Get the famous hairstyle of your favorite star Chris Brown New Hair, with high skin fade side part haircut. Tattoos on his head and neck, with the cool french beard style. How to style a Buzz Cut like this? Not so hard nor easy, the main part of this hairstyle is the side part haircut with low fades.
2

Chris Brown Dreads + Low Fade Skin Side

One of the most popular hairstyles dreads for men is cool, just like Chris's brown hair with long dreads on front and some are like man bun. If you are in the mood to style a hairstyle like this try this Chris Brown's Hair Style.
3

Chris Brown Blonde Hair Curls Short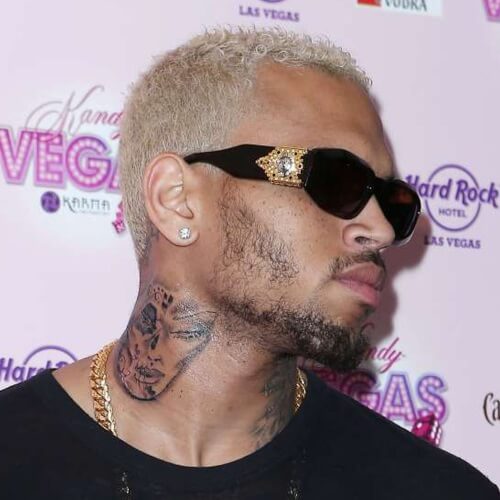 Most Celebrities Has Tried to Change the color of their's hair like J Balvin colors his hair into red and blue. Just like change the color into blonde is a new trend.
4

Buzz Cut + Shaped Line + French Cut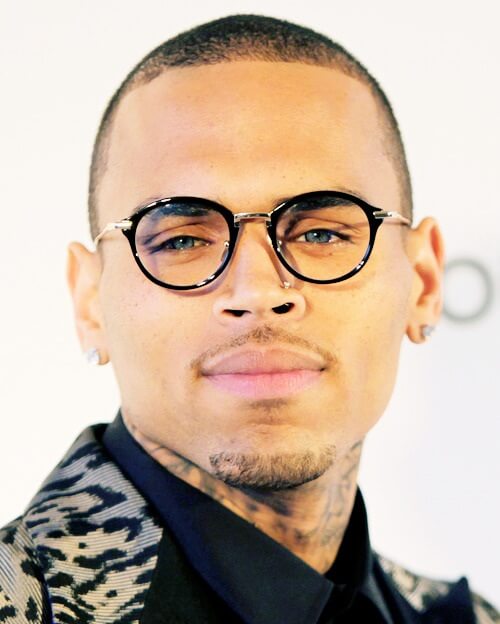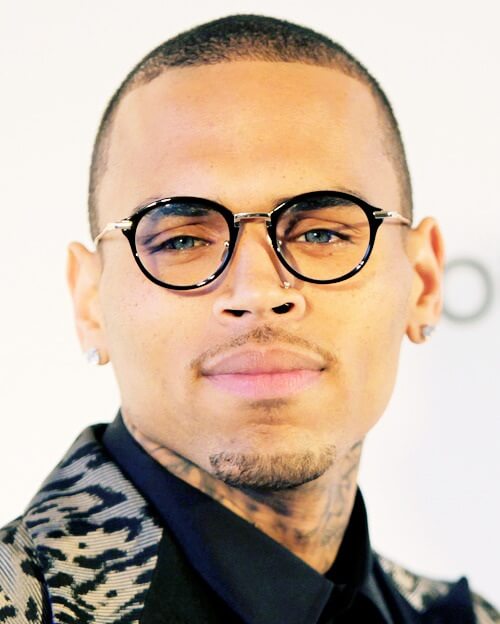 This hairstyle has three types of style, like high shaved too short buzz cut, shaped sharp-lined cut and awesome look of the beard. Chris Brown loves short hair as we have research about him and Chris brown tattoos complete the styling way.
5

Moon Cut Short Hair Fade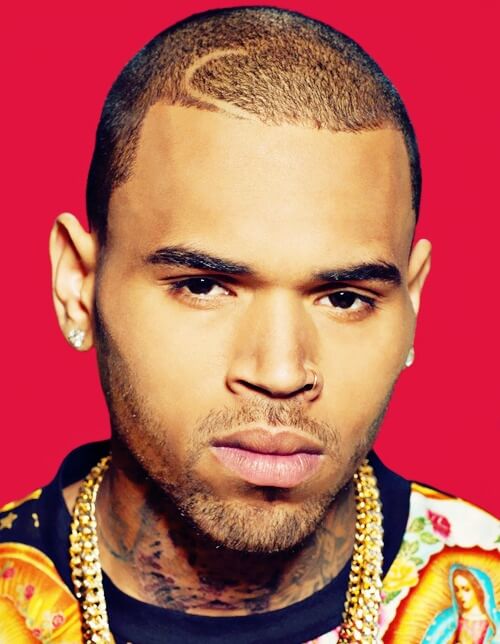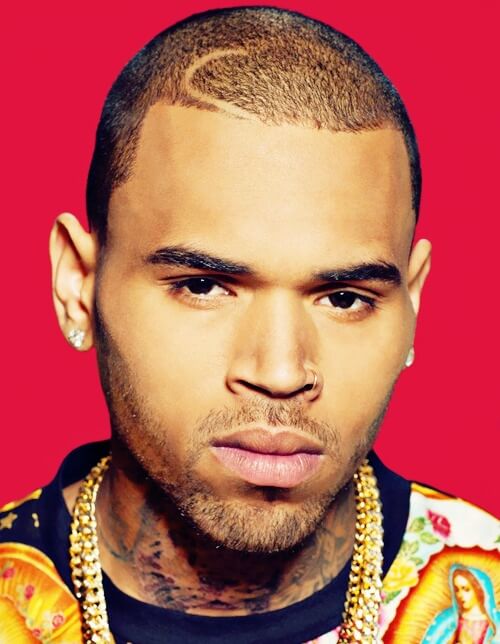 One of the unique hairstyles of Chris browns with the moon cut shaped line on the front, too tiny buzz short hair and the main style Chris brown fade haircuts.
6

Funky Colored Guys Hairstyles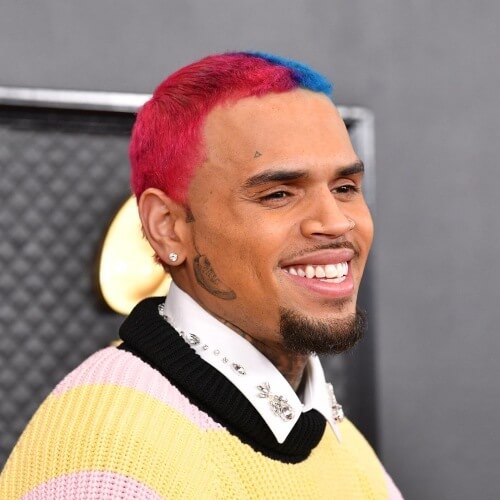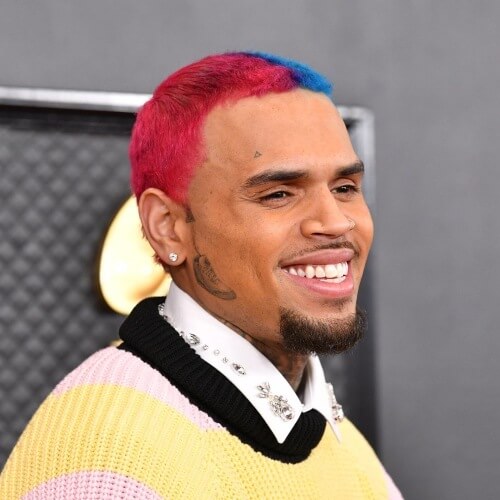 the tour Chris brown style his hair into like this two-colored funky curly hair, and the same unique beard style of Chris. Style it with some low weight bright colors of hair, just in this picture.
7

Curly Mixed with Highted Blonde Hair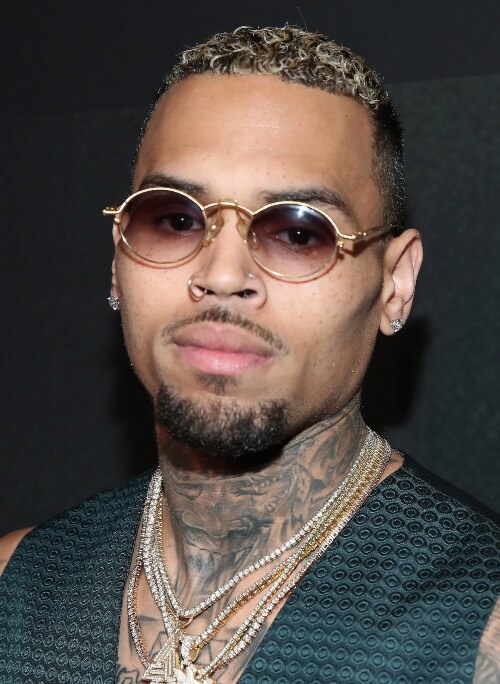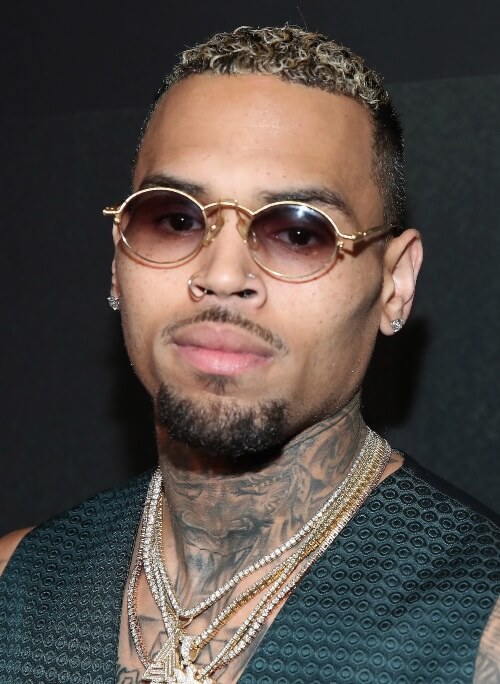 That's dashing hairstyle is suits on Chris mostly, as you can see how cool it is looking, if you wanna style hairstyle like him, try it with your blonde hair, short curly hair and high fade side part haircuts.
8

High Skin Fade Haircut + Tattooed Style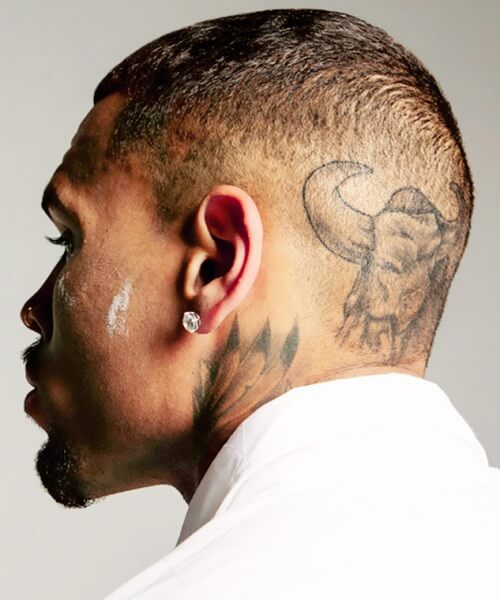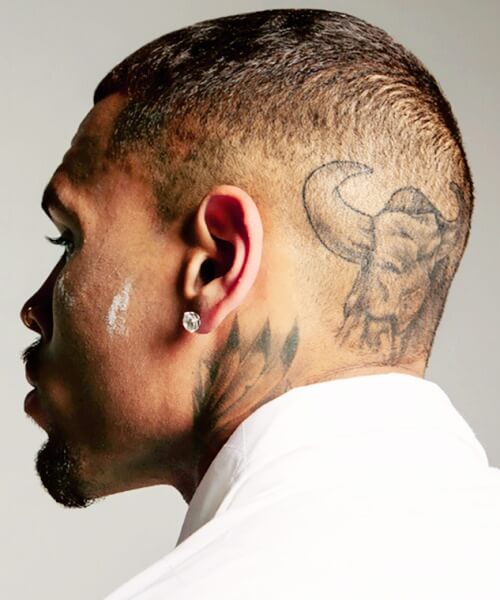 As you know Chris brown has so many cool tattooed just like this is the one of it, on his head back, it's bull tattoos and some on his neck with angel wings. That looks cool with a low fade side and back hairstyle.
9

Chris Brown Hairstyle Mohawk Pink Hair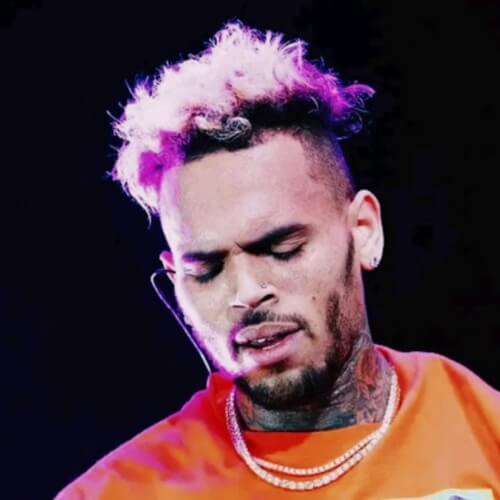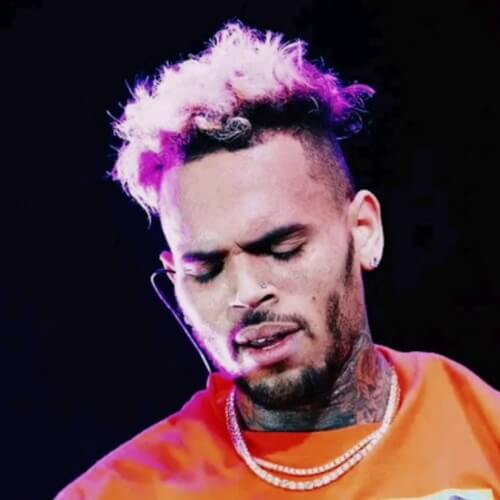 Look at this Dashing and Fucky hairstyle of Chris Brown with cool pink hair, colored curly hair and side part taper fade, skin fade, and unique beard styles. One of the best Chris Brown Haircuts while the live show of his new album "Indigo" 2019 and 2023.
10

MENS Caesar Hairstyle CHRIS BROWN STYLE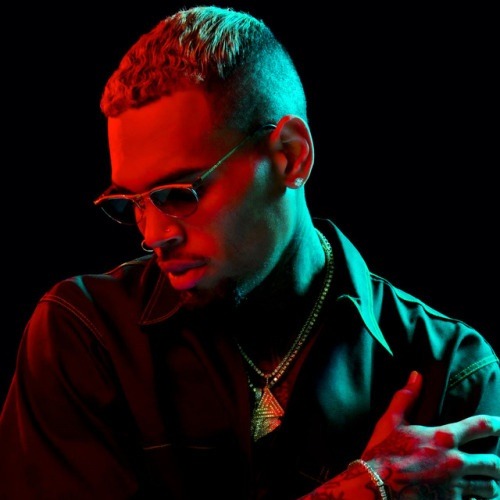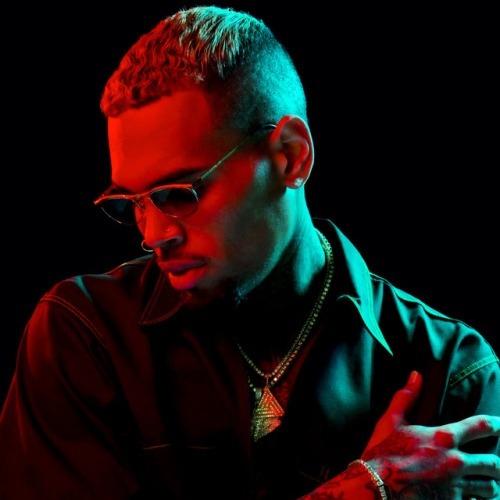 You are cool but not completely because of your hairstyle, try some cool hairstyles like Chris brown's hair and this picture. Its styles with just some short hair but it's one of his best one with caesar hairstyle + Short Curly Hair + Side Part Fade + Chris Brown Beard.
11

Messy Curly Hair + Low Skin Fade Cut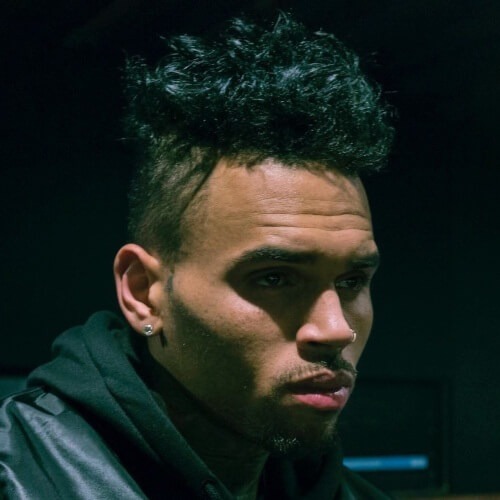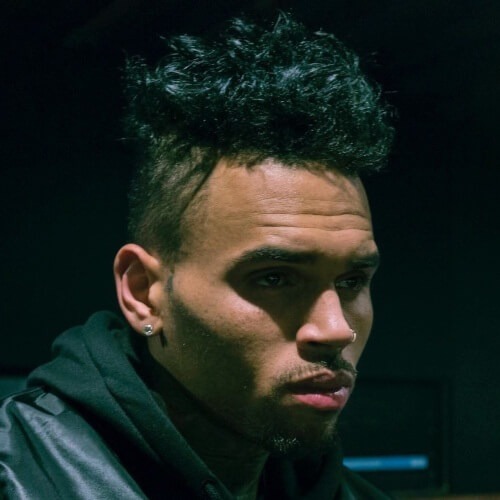 Very Rare picture of Chris Brown with medium length hair and it's awesome, Dashing Messy Hair Look, How it Style? Nothing different he just let his normal black hair, got a low fade side cut and some medium length curly hair on top.
12

Fringe Style Men Short Haircuts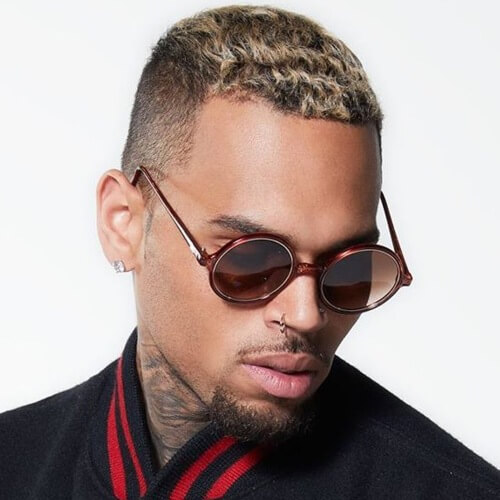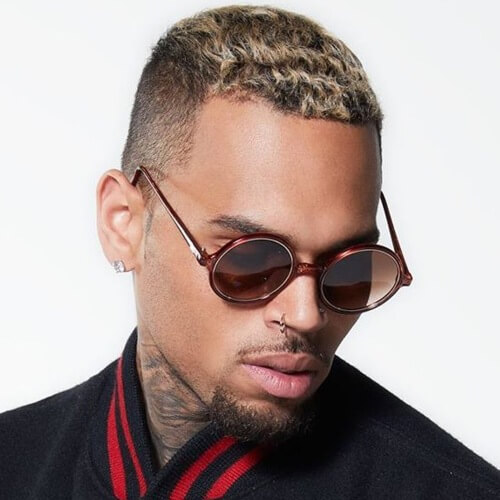 Look at the details of this cool fringe hairstyle of Chris Brown, wavy style on top, shaped head haircut, side part tiny drop fade, and bald skin fade.
13

Short Pompadour Hair + Singer Hairstyle Matched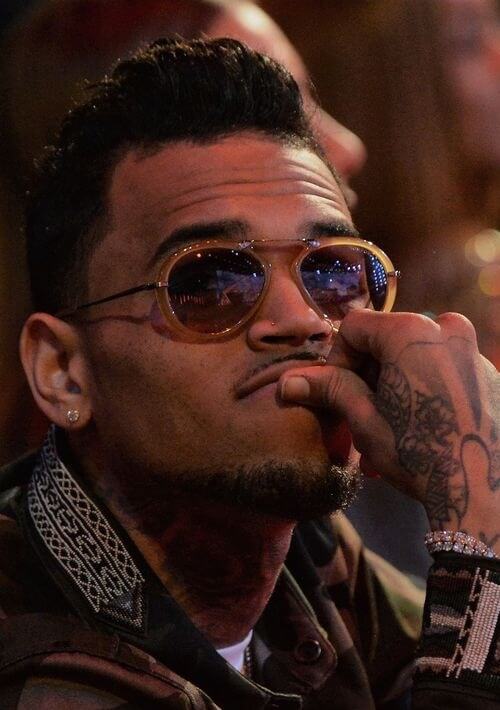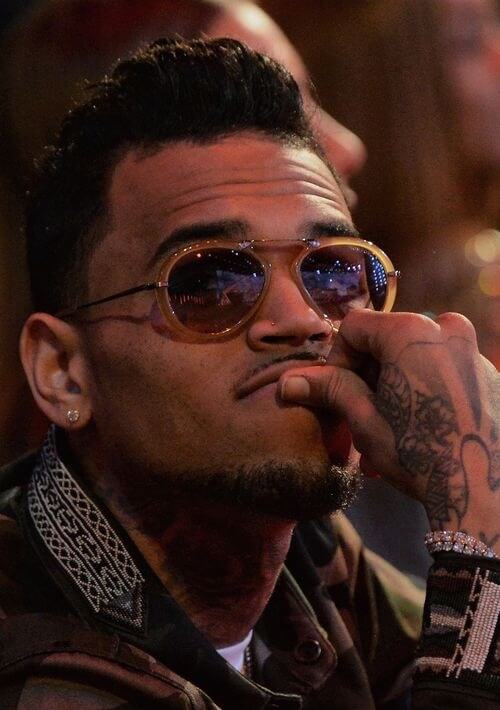 one of the different and unique one hairstyles of Chris Brown Hair, in this hairstyle dresser style a short pompadour with a curved quiff and fade touched.
14

Buzzcut Chris Brown Style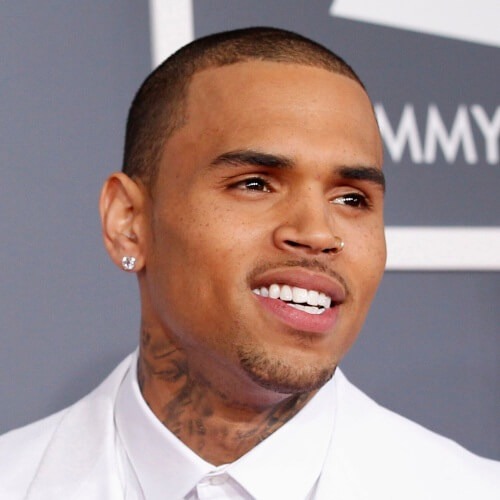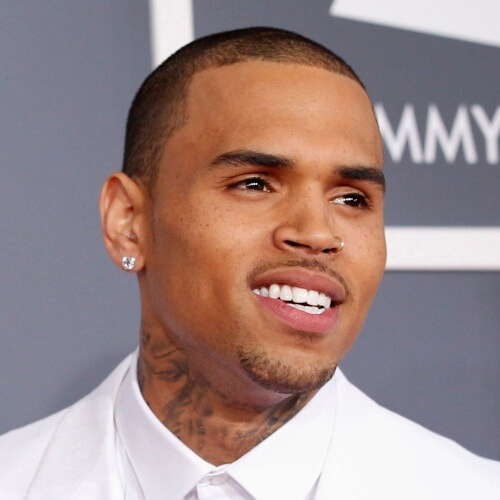 one of the most popular hairstyles of Chris brown, the buzzcut short hairstyle, the picture is taken in an award show, where he is looking dashing with this hairstyle. Short french cut beard style and Asian style mustache with low volume.
15

Curly Colored Mohawk + Low Fade Haircut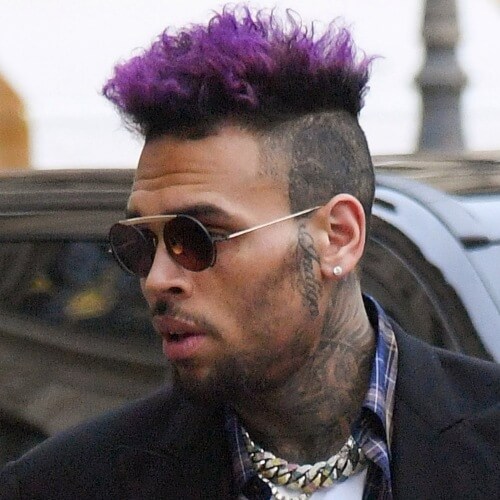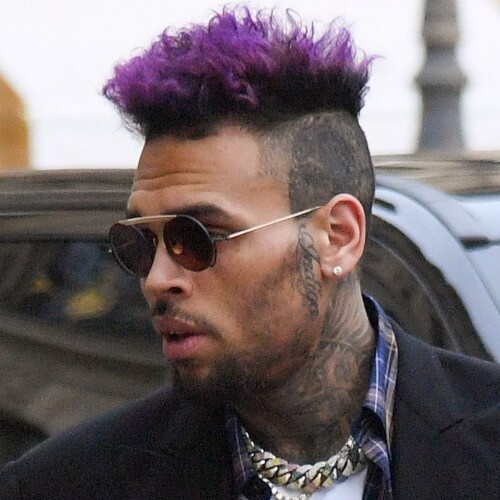 Chris Brown always tries new hairstyles, just like this one, this is a mohawk hairstyle with purple-colored curly hair and high sharped low fade skin on side part haircut.
REF:
1. https://en.wikipedia.org/wiki/Chris_Brown – Wikipedia of Chris Brown
2. https://www.chrisbrownworld.com/home/ – Official Website of Chris Brown
3. https://www.instagram.com/chrisbrownofficial/ – Instagram #chrisbrownofficial