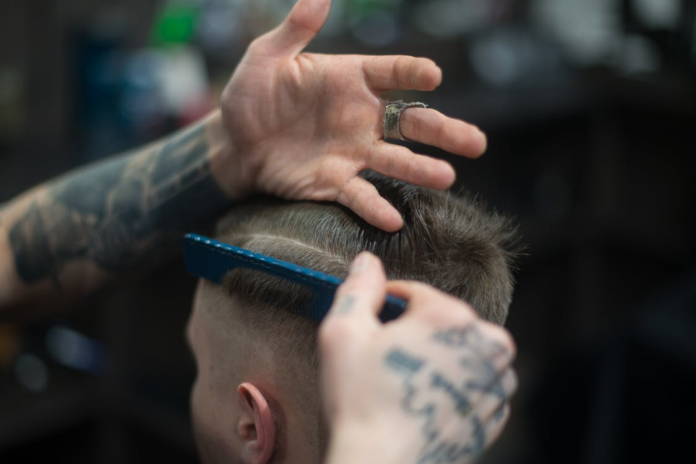 The long hairstyle of retro rockstars and hippies may make it seem that having luscious long hair for men is outdated. But fast forward to today, many men are ditching short haircuts and opting for various hairstyles involving long and thick hair. Achieving that kind of look is never easy. After all, hair grows less than an inch per month.
If you're looking for tips to grow your hair correctly, this article is for you! Read more below for the best no-nonsense trips to turn your hair into a beautiful, attractive mane.
Change Your Hair Care Products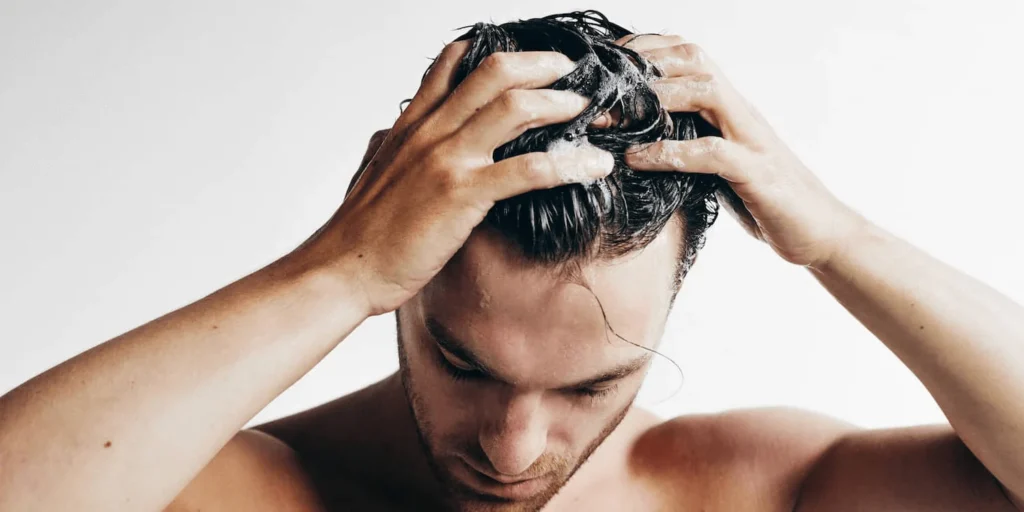 If you're practicing skincare, you know that not all products may work for you. Like every mens skincare pack, your hair products vary according to your needs and challenges. If you're used to short hair, you may notice yourself using styling waxes and gels to shape and mold your hair. However, you need to change your styling set as your hair grows.
For medium and longer lengths, using wax and styling gels may be detrimental to your hair's growth potential; opt for water-based or lighter products that help you style it appropriately without risking damage. Once your hair starts to gain heavy volume and shoulder length, look for hair serums, grooming creams, or hair polish to manage your hair and make it look natural.
Additionally, oil-based cuticle coats work wonders for follicle repairs and make your hair resistant to elements with a shiny, natural look as a bonus.
Get A Proper Haircut Schedule
It might sound counterintuitive, but regular visits to your trusty barber to remove split ends are one of the best ways to keep your mane consistent and healthy. Make a routine to cut your hair as little as possible every five weeks to cut away split ends, damaged hair, and style it down to look pleasant.
If you're starting to grow your mane, you'll soon enter an "awkward phase" around medium length. Regular trims are a must to keep your appearance sharp and keep your hair prim and proper.
Try Scalp Massages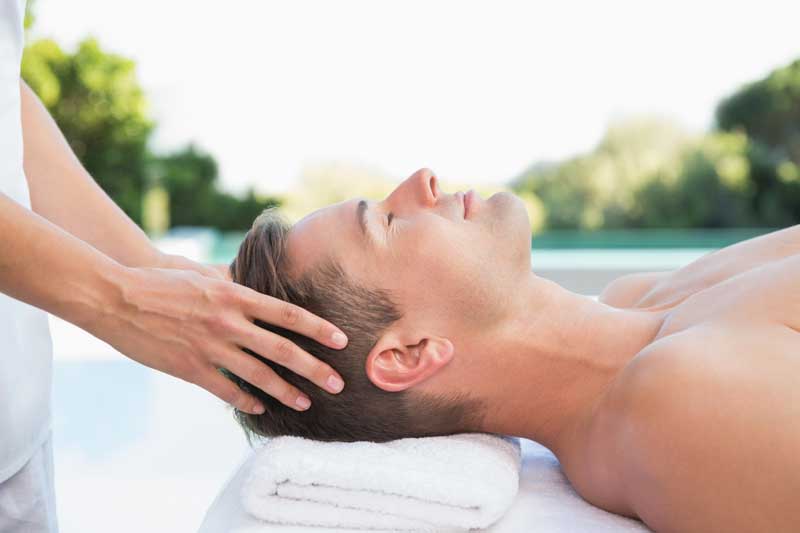 Believe it or not, giving your head a good massage actually promotes hair growth, and here's why.
While there are no definitive answers yet as to how scalp massages work on your hair, initial research shows that there is a clear association between regular massages and hair growth. In a previous study by Dermatology and Therapy in 2019, it was found that the majority of 300 plus participants reported hair regrowth after taking scalp massages for a period of 7 months.
While it is impossible to get a proper scalp massage every day, this means that you can take scalp massages more often as you like. If you want, you may even experiment with different oils and scents to further improve your hair and have a relaxing experience.
Use Conditioners Often
For long hair, a daily shampoo wash is not necessary anymore, but a good bottle of conditioner is. Conditioners are essential to your regular hair care routine to keep your hair hydrated, rich, and strong. We recommend a product with moisturizing capabilities to help add resistance and protect against pollution and dust. Part of your hair-growing journey is keeping your hair constantly hydrated, healthy, and protected.
Skip Daily Shampooing
As mentioned earlier, washing your hair with shampoo daily is unnecessary because shampoo keeps your scalp and hair free from germs, dust, dandruff, and oils. Oils are essential to growing hair, and shampoos affect hydration and overall health.
If you want, try taking a long bath using shampoo only, and you'd notice that your hair feels dry and rough; that's one thing we must avoid when growing out that hair. We recommend using shampoo at least two times a week; if your hair is often greasy from natural growth or work environment, you can use a small amount of product every other day.
Love The Hair Bands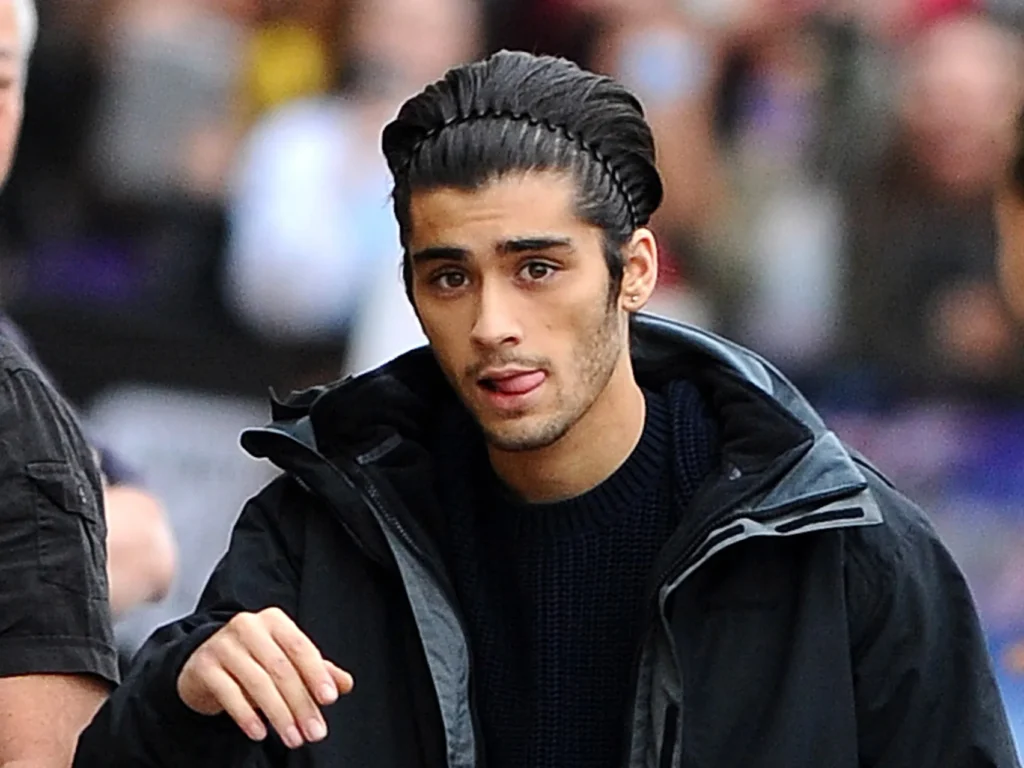 As you grow out your hair past the short hair length, you'd want to keep your bangs and locks tidy. From whole man buns to shoulder-length hairs, you may want to use hair elastic bands or headbands to keep your hair out of your eyes. There are some styles that you could do with cool bands that you can experiment on.
Don't forget to tie it down too tight as it promotes breakages and affects your hairline; if you don't want to sport a proper ponytail with a wider hairline, people will notice if you wear it too tight, and it's not an excellent hairstyle to look at.
Be Healthy
Aside from hair products, a nutrient-rich diet works wonders to supply your hair with nutrients, some may think it doesn't make sense, but as fruits and vegetables promote clear skin, they also boost your scalp health and foster a steady growth rate.
For starters, incorporate proteins and fats into your system; foods like eggs, sweet potatoes, and avocados are a good starting point. Since you're starting to eat healthily, go for more and try experimenting with natural fruit juices as well!
Growing Hair is a Waiting Game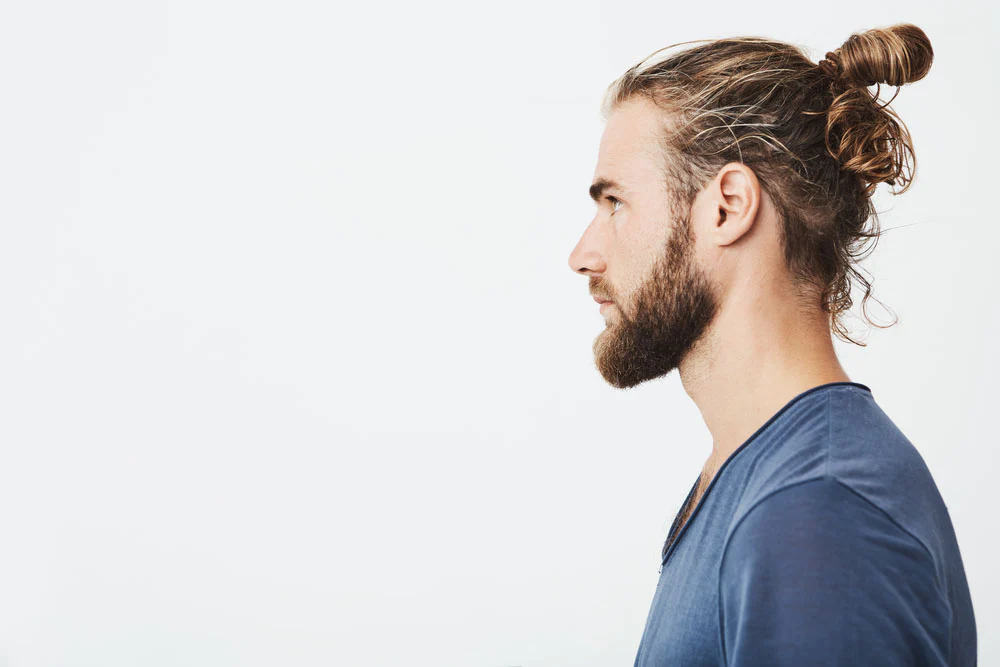 Just be patient. Growing your hair to a mane takes time, and no product can speed it up. An average human grows around half an inch of hair every month, so maintaining a good hair care routine ensures that every inch grown remains firm, hydrated, and away from breakage.
With that said, you will experience various stages of hair growth that will affect your appearance, and all the brushing, bathing routines, and diet are excellent practices to keep your hair long and healthy for longer. This whole journey is worth the wait, and before you know it, you've been sporting a glistening god-like hair this whole time!
Final Thoughts
Growing your hair is a game of patience and discipline, and there's no practical way to speed up its growth. With these tips above, you ensure good hair hygiene practice and minimize the risk of an awkward hairstyle. And just like we mentioned, growing your hair is worth the wait.